Dale Peretti was born in Everett, Washington, on February 12, 1931. He lived in Everett until he was in the 4th grade when they
moved to Lake Stevens, Washington. He attended Pilchuck Elementary School and went on to graduate from Lake Stevens High School. Dale attended the First Baptist Church in Lake Stevens. When he was in the 6th grade, he asked Christ to be his personal saviour. Later on, he was baptized in1946, at the First Baptist church.
Dale enrolled in Multnomah School of the Bible and received his diploma. He went later attended Cascade College and received a B.A. in Education in 1955. It was there at Cascade College he met his future wife June Eldeen Holstrom. They were married on May 26, 1956, at the First Evangelical United Brethren Church. They started attending Temple Baptist Church in 1957. In 1958, he graduated from Western Baptist Seminary with a B.D. degree, ThM. in 1961. He then attended the University of Portland and graduated
in 1964 with an M.A in history.
Dale taught History at Marshall High School in Portland for 27 years and retired in 1990. Dale enjoys playing golf, landscaping, and reading. He partially designed the church landscape, planted most of the shrubs and plants around the outside of the church and kept the grounds looking meticulous for 40 years. June and Dale have two children, Karen Marie and Jeffrey Dale and are also blest with two grandchildren.
Since 1958, he has held a variety of positions at Temple Baptist Church. He was Sunday School Superintendent, Deacon, Elder, and Moderator of the Church. Dale helped established both the book and video libraries and has kept it continuously updated. Since 1958, Dale has taught the Temple Builders class; later the Crusaders class merged with the Temple Builders class and are know known as the Temple Builders/Crusaders Class.
Dale's favorite Bible verse is:
According to my earnest expectation and my hope, that in nothing I shall be shamed, but that with all boldness, as always, so also Christ shall be magnified in my body, whether it be by life, or by death. For me to live is Christ, and to die is gain. Philippians 1:20-21.
June Holstrom was born in Portland, Oregon, at Saint Vincent Hospital on June 1, 1928, into the family of Anton and Meta Holstrom and 12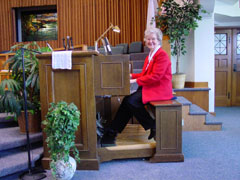 year old Inez. Portland has been her home all of her life. The Holstrom family lived on NW 26th Street. She attended Chapman School and Lincoln High School. Her spiritual journey began at about age nine in The Scandinavian Salvation Army Church. Two years later she was the pianist for this Swedish speaking, worshiping congregation.
Early in her life she thought of being a nurse, however, music was a great interest. She attended Cascade College as a declared music major. After one year, she entered Emanuel School of Nursing and graduated in 1952. While working at Emanuel in Maternal-Newborn Nursing, she returned to Cascade College to earn a BS in nursing. There she met her future husband, Dale Peretti. They were married May 26, 1956, at 1st Evangelical United Brethren Church. The following year they began to attend Temple Baptist Church.
June continued teaching at Emanuel School of Nursing for twenty-two years until the school was closed in 1975. Then she was hired by Mt. Hood Community College to teach in the Associate in Science degree nursing program.
She also attained an M.S. in Education at the University of Portland in 1978.
On January 1, 1993, June retired from the nursing profession and was able to devote more time to the music ministry at Temple. In 1959, June was asked to be the organist for Temple and we still enjoy her music every Sunday and other special times. She counts it a privilege to serve the Lord in this way. June and Dale have two children, Karen Marie and Jeffrey Dale and are also blest with two grandchildren.
June's favorite Bible verse is:
Finally, brethren, whatsoever things are true, whatsoever things are honest, whatsoever things are just, whatsoever things are pure, whatsoever things are lovely, whatsoever things are of good report; if there be any virtue, and there be any praise, think on these things. Philippians 4:8
Return to Church History 1999