Dave and Marge Parker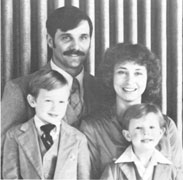 Dave and Marge each accepted Christ as young children through the influence of Christian parents. And both were involved in church activities during childhood. But by high school and early college years, Dave went through a time of "adolescent revolt," and Marge went her own way, with no spiritual growth.
It was during their sophomore year at Seattle Pacific College that they began dating. Both Dave and Marge rededicated their lives to God, and they were married on June 13, 1970.
They completed their college education and found teaching jobs. They were then offered positions to teach in an international school in Sanaa, Yemen Arab Republic. For two years they lived and worked with many Muslim families, growing to love them.
Back in the U.S., Dave earned his M.Div. degree at Western Conservative Baptist Seminary, while they both became involved in the Temple Baptist Church, Portland, Dave served first as janitor and then as Director of Adult Education, and Marge as part-time secretary.
With a desire to return overseas, the Parkers applied to the BGC Board of World Mission. They were appointed as missionaries at the midyear meetings in December of 1980. Plans are being made to begin language study early in 1982 before beginning their urban ministry.
Accompanying Dave and Marge to the Ivory Coast will be their two sons, Aaron born January 13, 1976 and Benjamin born February 17, 1978.
Dave and Margie's favorite Bible Verses
Dear friends, since God so loved us, we also ought to love one another. No one has ever seen God; but if we love one another, God lives in us and His love is made complete in us.
1 John:11,12
Return to Church History 1980