Martin Luther
1483-1546
Martin Luther was born on November 10, 1483 in the town of Eisleben, county Mayfield, Germany. He was the son of Hans
Luther and Margarete. Han's father worked a farm in West Thuringian. When Han's father died, inheritance laws made it impossible for them to take over his fathers' farm so they moved to Eislenben where copper mining was in full production. He worked as a miner. While they were still living in Eisenben, their second child was born. They christened the new baby Martin. Han's worked hard and eventually became owner of a small metallurgical plant. Martin's upbringing was religious and strict. His father had great ambitions for him. He wanted Martin to attend law school but Martin had different ideas about what he was going to do and set forth on an entirely different course. First as a monk, then as Doctor of Theology and finally as Professor of Bible. No other person of this time in history (the middle ages) influenced the world as he did. He endured the threat of severe punishment from the pope and the emperor for what he preached and proclaimed. It is said he was the greatest reformer in German history.
---
When he was about seven years old, Martin attended the public school in Mansfeld. He was taught grammar, logic, music and rhetoric. The education was mediocre. The teachers were tyrants and veritable masters of the cane, as Luther later said. When he was fourteen years of age, Luther left Mansield to attend school in Magdeburg, then in Eisenach.
In 1497, he left the school in Eisenach to attend the parochial school St. Georg in Eisenach. There, he received a hearty welcome by relatives of his mother, and had the privilege of living with them and being introduced to the citizens of Eisenach. The education here was good. By singing in the streets he was able to earn himself extra pocket money, as did many other pupils.
In 1501, Luther enrolled in the renowned University of Erfurt, known as the "Bologna of the North". There he studied liberal arts, took basic courses in rhetoric, grammar, dialectics and later algebra, geometry, music and astronomy.
In 1505, after the shortest permissible term of study, Luther graduated with high marks, attaining his masters degree. After that he entered law school, as had been his father's wish, but discontinued his studies after a short while. Melancholia and doubts as to his stipulated life led him to consider entering a monastery.
On his return trip from Mansfeld to Erfurt on July 2, 1505, young Luther, caught in the "hell" of a terrible thunderstorm by Stotternheim, cried out "Help me, St. Anna: I wish to become a monk", asking the saint for assistance.
Before entering the cloister, he celebrated with his friends, playing the lute : He told them: "Today you see me, and henceforth never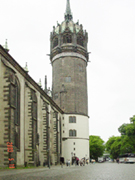 more." On July 17, 1505, he knocked on the doors of the Augustinian monastery, asking to be taken in as a novice. For a long time, the doors closed behind him. After his trial year he was ordained as a monk in 1506, vowing obedience; chastity, and the rejection of all earthly possessions.
On April 4, 1507 he was ordained a priest, started his study of theology, and after moving back and forth from Wittenberg to Erfurt, finally settled in Wittenberg in 1511. In 1512, Luther became a Doctor of Theology. From 1513, he held the position of Professor of Bible in Wittenberg for thirty years:

In the winter of 1510, the month of November, in the chilling cold and snow, Doctor Martin Luther traveled on foot over the Alps to Rome with an Augustinian monk, a friend of his. Upon his arriving Rome; he threw himself on the ground and cried: "l welcome you, Holy Rome! Seven years later he would rage against the construction of St. Peters Church, financed in part by the sale of indulgences and holy relics.
In 1514, Rome began to practice gathering indulgence moneys in Germany as well, by a man named Johannes Tetzel. This man stood in front of churches and demanded money, saying: "When the penny rattles in the box, the soul from hellfire jumps." He promised everyone freedom from sin if they would buy letters of indulgence. In this manner Tetzel went about his evil practices.
On October 31,1517, at12 o'clock noon, Doctor Martin Luther, on All Hallow's Eve, nailed his famous Ninety-five Theses on the main doors of the University Church in Wittenberg. They were written in Latin. In them, he demanded a discussion with the University faculty members about the sale of indulgences and matters of the church. Luther had no idea what was to develop from this.
Luther was summoned to appear in Augsburg to the Imperial Diet from October 12 to October 14,1518, where he was to stand trial. In the home of the wealthy Fuggers, the papal legate, Cajetan, interrogated him. Threatening him with a "bull of excommunication", it was demanded that Luther realize his errors and loyally serve the church in the future. On October 16, Luther fled from Augsburg. Upon his arrival in Wittenberg, he considered leaving Germany and living in exile.
The breach with Rome was final, and on January 3,1521, Pope Leo X. issued the bull of excommunication on Luther, banning him. But the prince elector Frederic III, called "The Wise", used his authority to protect Luther, even though the Pope pressured him to ostracize the heretic. Luther's worst enemy, Johannes Eck, demanded that his writings be burned. Luther took up the task himself, but then only threw his bull of excommunication and copies of canonical law into the flames. Afterwards he went to the monastery with his students to celebrate.
On April 2, 1521, Luther traveled to the Imperial Diet in Worms in a covered wagon. The emperor himself wished to interrogate
him. Hundreds of nobles had previously declared they were prepared to protect his life and teachings. In every village and town he was greeted by jubilant crowds, and although he was forbidden to do so, he preached in Erfurt, Gotha and Eisenach, telling the people: "God will be with me." Although he was afraid, he continued on to Worms, and his journey became one of triumph.
Karl ~ had only recently been crowned emperor at just twenty-one years of age. On the first day of interrogation, when asked whether he was willing to renounce his writings, Luther asked to be given time to consider. The following day, the question was once more put to him, but Luther remained steadfast, seeing no reason to renounce. The emperor was beside himself with rage, calling him a rebel, putting him under the ban of the Empire, finally, the Imperial Diet came to an end. Luther proclaimed, greatly relieved: "I made it through, I made it through!". The emperor granted him twenty-one days of safe conduct, then he was proscribed, meaning anyone could kill him without fear of punishment. On April 26, he left Worms.
His protector, prince elector Friedrich III, feared for Luther's life. In a feint attack by Schweina, close to Eisenach, he was taken to the Wartburg, where he was safe. To his friend, the painter Lucas Cranach in Wittenberg, Luther wrote: "I have allowed myself to be captured".
And so the monk, Martin Luther, became "Junker" Jorg. He put away his habit and henceforth dressed as a knight and grew a beard and long hair. Although Luther was able to participate in social life on the Wartburg, was taken along on hunts and secretly visited Eisenach, he was sad. In December 1521 he traveled incognito to Wittenberg, to see how things were going. Everyone in the land believed Martin Luther to be dead.
Upon his return to the Wartburg he started his life's work, the translation of the Bible. In just three months Luther was able to translate the New Testament from Greek into German. Often he imagined the devil torturing him, especially while translating, and threw an inkwell at him. Luther firmly believed in the devil.
The millennial feat was completed. After ten months on the Wartburg, Luther fled to Wittenberg in early 1522. He put himself at great risk, as he was still proscribed. Anyone could have betrayed or even killed him, but he was very popular with the people. Thus he returned to the monastery in Wittenberg. Together with his friend, Philipp Melanchthon, he revised the manuscripts of the Bible
translation. Lucas Cranach created the artwork for it.
Maintaining strict secrecy, one thousand pages were printed daily on three presses in Johannes Lufft's workshop. On September 20, 1522, the first copies of the Bible were presented to prince elector Friedrich III. Those who could not read the "September Bible" understood the pictures. In 1523, the Pope outlawed reading the Bible under threat of punishment.
On June 13, 1525, Dr. Martin Luther, having previously1eft the Augustinian order; married the former Cistercian nun Katharina von Bora. Johannes Bugenhagen performed the ceremony in the castle chapel in Wittenberg. From, there on, Luther wore his black frock coat and preached three times a week in the village church. He was Stilt excommunicated; proscribed, arid his life was in-danger.
The Luther's were happily married and a respected couple in Wittenberg. She bore six children, Johannes, Elisabeth, Magdalena, Martin, Paul and Margarete. Elisabeth died when she was but nine months old on August 3rd 1528, when the plague swept through Wittenberg. Magdalena died when she was thirteen; on December 17, 1534, after a severe illness. In deep sadness, Martin Luther wrote the hymn "From Heaven Above to Earth I Come."
Luther's excommunication was revoked at the Imperial Diet in Speyer in early 1526, but the religious war continued. Ever since 1524, Luther had been living the monastery where 'he had once been an Augustinian monk; His sovereign gifted' this monastery to him in 1532. Many nuns and monks, after leaving their monasteries, found shelter in the "free house" and were accommodated there.

Nobility and other guests from Austria, Hungary, Holland and England and Bohemia often came to visit. Many were looking for Luther's advice. Others wanted to get acquainted with him and his teachings. On some days, the Luther's accommodated up to forty guests in their free house. Conversations at the table were very popular with all the guests, where Luther would spice the discussions with wit and mockery.
In 1526 the plague broke out in Wittenberg. Professors, students and citizens fled the town and sought shelter in Jena. Katharina and Martin Luther stayed and helped the town's preacher Bugenhagen bury the dead. The plague carried off young and old alike.
1527 was a year full of pain and severe illness for Martin Luther. He had been suffering for some time from gout, kidney stones and constipation, which put him in great pain. Now he also suffered from constriction of the chest and heart pain. Again Luther believed it to be the devil torturing him, attempting to gain control over him.
While residing in the castle of Coburg, Luther received the news of his father's death (1530 in Mansfeld). One year later, his mother died. He set out on one last arduous journey on January 17, 1546, with his two sons, heading for Eisleben to mediate a dispute between Count Albrecht von Mansfeld and his brother Gebhard. Luther felt very ill and suffered from shortness of
breath. After arriving in Eisleben he was accommodated by his friend, the town clerk, Johann Albrecht.
In February, Luther was finally able to arrange an agreement between the Counts. Fully exhausted, he died during the night of February 17, 1546, shortly before three a.m. in Eisleben. Messengers delivered the news of his death to Torgau, where the prince elector was staying. Chancellor Bruck informed Melanchton and Bugenhagen of Luther's death, and they both gently delivered the message of his death to his wife, Katharina.
Luther's corpse was laid out in state in St. Andrew's Church in Eisleben. Justus Jonas held the obituary speech. The deceased was placed in a tin coffin, and on the morning of February 20, the funeral procession, escorted by sixty horsemen, marched towards Wittenberg. Bells were ringing in all of the land. On February 21, after arriving in Wittenberg, the "Prince of God" was laid to rest in the Castle Chapel. Melanchton and Bugenhagen held the commemorative speech in Latin and German.

The above text from the book "Martin Luther His Life and Work" by Manfred Tekla was used with his written permission.

---
What Luther Taught
Martin Luther affirmed the final authority of a self-interpreted Bible, and rejected non-scriptural beliefs. He taught a "spiritual" doctrine of the church. He depicted it as a serving priesthood of believers, as against the medieval idea of the church as a hierarchical institution under the bishop of Rome, administering salvation through sacrament. Here, too, all Protestants agreed. The Lutheran churches of Germany and Scandinavia developed in isolation from the Reformed churches of Switzerland, Holland, the Rhineland and Britain. But this was an accident of geography and politics, rather than a sign of major theological differences. Yet each tradition seemed at points eccentric to the other. Luther taught that infants were regenerated in baptism (through infant faith!) He also affirmed the 'real presence' of Christ's body 'in, with and under' the eucharistic bread. To buttress this idea he maintained the 'ubiquity;, or capacity for multi-presence', of Jesus' glorified flesh. Lutherans followed him, but Calvin and Reformed theologians generally rejected these ideas, holding that Christ's body is 'in Heaven, and not here', and that Christ encounters his people at the communion table, not by bodily presence in the elements, but by the Spirit's presence and power in their hearts. Lutherans have always found this view irreverently "low".
This account of What Luther Taught, was copied from the book, "Eerdmans" Handboook to the History of Christianity. pg.374
Martin Luther's Ninety-five Theses
The following 95 declarations were posted by Martin Luther on the North doors of the Castle Church in Wittenberg, Germany on October 31, 1517. The doors pictured are not the original wooden doors but have been replaced with these metal clad doors.
Out of love for the truth and from desire to elucidate it, the Reverend Father Martin Luther, Master of Arts and Sacred Theology, and ordinary lecturer therein at Wittenberg, intends to defend the following statements and to dispute on them in that place. Therefore he asks that those who cannot be present and dispute with him orally shall do so in their absence by letter. In the name of our Lord Jesus Christ, Amen.
1. Our Lord and Master Jesus Christ, in saying, "Repent ye, etc.," intended that the whole life of his believers on earth should be a constant penance.
2. And the word "penance" neither can, no may be understood as referring to the Sacrament of Penance, that is, to confession and atonement as exercised under the priest's ministry.
3. Nevertheless He does not think of inward penance only: rather is inward penance worthless unless it produces various outward mortifications of the flesh.
4. Therefore mortification continues as long as hatred of oneself continues, that is to say, true inward penance lasts until entrance into the Kingdom of Heaven.
5. The Pope will not, and cannot, remit other punishments than those which he has imposed by his own decree or according to the canons.
6. The Pope can forgive sins only in the sense, that he declares and confirms what may be forgiven of God; or that he doth it in those cases which he hath reserved to himself: be this contemned, the sin remains unremitted.
7. God forgives none his sin without at the same time casting him penitent and humbled before the priest His vicar.
8. The canons concerning penance are imposed only on the living; they ought not by any means, following the same canons, too be imposed on the dying.
9. Therefore, the Holy Spirit, acting in the Pope, does well for us, when the latter in his decrees entirely removes the article of death and extreme necessity.
10. Those priests act unreasonably and ill who reserve for Purgatory the penance imposed on the dying.
11. This abuse of changing canonical penalty into the penalty into the penalty of Purgatory seems to have arisen when the bishops were asleep.
12. In times of yore, canonical penalties were imposed, not after, but before, absolution, as tests of true repentance and affliction.
13. The dying pay all penalties by their death, and are already dead to the canons, and rightly have exemption from them.
14. Imperfect spiritual health or love in the dying person necessarily brings with it great fear; and the less this love is, the greater the fear it brings.
15. This fear and horror -- to say nothing of other things -- are sufficient in themselves to produce the punishment of Purgatory, because they approximate to the horror of despair.
16. Hell, Purgatory, and Heaven seem to differ as perfect despair, imperfect despair, and security of salvation differ.
17. It seems as must in Purgatory love in the souls increase, as fear diminishes in them.
18. It does not seem to be proved either by arguments or by the Holy Writ that they are outside the state of merit and demerit, or increase of love.
19. This, too, seems not to be proved, that they are all sure and confident of their salvation, through we may be quite sure of it.
20. Therefore the Pope, in speaking of the perfect remission of all punishments, does not mean that all penalties in general be forgiven, but only those imposed by himself.
21. Therefore, those preachers of indulgences err who say that, by the Pope's indulgence, a man may be exempt from all punishments, and be saved.
22. Yea, the Pope remits the souls in Purgatory no penalty which they, according to the canons, would have had to pay in this life.
23. If to anybody complete remission of all penalties may be granted, it is certain that it is granted only to those most approaching perfection, that is, to very few.
24. Therefore the multitude is misted by the boastful promise of the paid penalty, whereby no manner of distinction is made.
25. The same power that the Pope has over Purgatory, such has also every bishop in his diocese, and every curate in his parish.
26. The Pope acts most rightly in granting remission to souls, not by the power of the keys -- which in Purgatory he does not possess -- by way of intercession.
27. They preach vanity who say that the soul flies out of Purgatory as soon as the money thrown into the chest rattles.*
*Alluding to Tetzel's verse: -- Sobald das Geld im Kasten klingt, Eie Seele aus dem Fegefeuer in den Himmel springt.
As soon as the money rattles in the chest, The soul flies from Purgatory into Heaven.
28. What is sure, is, that as soon as the penny rattles in the chest, gain and avarice are on the way of increase; but the intercession of the church depends only on the will of God Himself.
29. And who knows, too, whether all those souls in Purgatory wish to be redeemed, as it is said to have happened with St. Severinus and St. Paschalis.
30. Nobody is sure of having repented sincerely enough; much less can he be sure of having received perfect remission of sins.
31. Seldom even as he who has sincere repentance, is he who really gains indulgence; that is to say, most seldom to be found.
32. On the way to eternal damnation are they and their teachers, who believe that they are sure of their salvation through indulgences.
33. Beware well of those who say, the Pope's pardons are that inestimable gift of God by which man is reconciled to God.
34. For the forgiveness contained in these pardons has reference only to the penalties of sacramental atonement which were appointed by men.
35. He preaches like a heathen who teaches that those who will deliver souls out of Purgatory or buy indulgences do not need repentance and contrition.
36. Every Christian who feels sincere repentance and woe on account of his sins, has perfect remission of pain and guilt even without letters of indulgence.
37. Every true Christian, be he still alive or already dead, partaketh in all benefits of Christ and of the Church given him by God, even without letters of indulgence.
38. Yet is the Pope's absolution and dispensation by no means to be contemned. since it is, as I have said, a declaration of the Devine Absolution.
39. It is exceedingly difficult, even for the most subtile theologists, to praise at the same time before the people the great wealth of indulgence and the truth of utter contrition.
40. True repentance and contrition seek and love punishment; while rich indulgence absolves from it, and causes men to hate it, or at least gives them occasion to do so.
41. The Pope's indulgence ought to be proclaimed with all precaution, lest the people should mistakenly believe it of more value than all other works of charity.
42. Christians should be taught, it is not the Pope's opinion that the buying of indulgence is in any way comparable to works of charity.
43. Christians should be taught, he who gives to the poor, or lends to a needy man, does better that buying indulgence.
44. For, by the exercise of charity, charity increases and man grows better, while by means of indulgence, he does not become better, but only freer from punishment.
45. Christians should be taught, he who sees his neighbour in distress, and, nevertheless, buys indulgence, is not partaking in the Pope's pardons, but in the anger of God.
46. Christians should be taught, unless they are rich enough, it is their duty to keep what is necessary for the use of their households, and by no means to throw it away on indulgences.
47. Christians should be taught, the buying of indulgences is optional and not commanded.
48. Christians should be taught, the Pope, in selling pardons, has more want and more desire of a devout prayer for himself than of the money.
49. Christians should be taught, the pope's pardons are useful as far as one does not put confidence in them, but on the contrary most dangerous, if through them one loses the fear of God.
50. Christians should be taught, if the Pope knew the ways and doings of the preachers of indulgences, he would prefer that St. Peter's Minster should be burnt to ashes, rather than that it should be built up of the skin, flesh, and bones of his lambs.
51. Christians should be taught, the Pope, as it is his bounden duty to do, is indeed also willing to give of his own money -- and should St. Peter's be sold thereto -- to those from whom the preachers if indulgences do most extort money.
52. It is a vain and false thing to hope to be saved through indulgences, through the commissary -- nay, the Pope himself -- was to pledge his own soul therefore.
53. Those who, on account of a sermon concerning indulgences in one church, condemn the word of God to silence in the others, are enemies of Christ and of the Pope.
54. Wrong is done to the word of God if one in the same sermon spends as much or more time on indulgences as on the word of the Gospel.
55. The opinion of .the Pope cannot be otherwise than this:- If an indulgence -which is the lowest thing -be celebrated with one bell , one procession and ceremonies, then the Gospel -which is the highest thing -must be celebrated with a hundred bells, a hundred processions, and a hundred ceremonies.
56. The treasures of the Church, whence the Pope grants his dispensation, are neither sufficiently named nor known among the community of Christ.
57. It is manifest that they are not temporal treasures, for the latter are not lightly spent, but rather gathered by many of the preachers.
58. Nor are they the merits of Christ and of the saints, for these, without the Pope's aid, work always grace to the inner man, cross, death, and hell to the outer man.
59. St. Lawrence called the poor of the community the treasures of the community and of the Church, but he understood the word according to the use in his time.
60. We affirm without pertness that the keys of the Church, bestowed through the merit of Christ, are this treasure.
61. For it is clear that the Pope's power is sufficient for the remission of penalties and forgiveness in the reserved cases.
62. The right and true treasure of the Church is the most Holy Gospel of the glory and grace of God.
63. This treasure, however, is deservedly most hateful, for it makes the first to be the last.
64. While the treasure of indulgence is deservedly most agreeable, for it makes the last to be the first.
65. Therefore, the treasures of the Gospel are nets, with which, in times of yore, one fished for the men of Mammon.
66. But the treasures of indulgence are nets, with which now-a-days one fishes for the Mammon of men.
67. Those indulgences, which the preachers proclaim to be great mercies, are indeed great mercies, forasmuch as they promote gain.
68. And yet they are of the smallest compared to the grace of God and to the devotion of the Cross.
69. Bishops and curates ought to mark with eyes and ears, that the commissaries of apostolical (that is, Popish) pardons are received with all reverence.
70. But they ought still more to mark with eyes and ears, that these commissaries do not preach their own fancies instead of what the Pope has commal1ded.
71. He who speaks against the truth of apostolical pardons, be anathema and accursed.
72. But blessed be he who is on his guard against the preacher's of pardons naughty and impudent words.
73. As the Pope justly disgraces and excommunicates those who use any kind of contrivance to do damage to the traffic in indulgences,
74. Much more it is his intention to disgrace and excommunicate those who, under the pretext of indulgences, use contrivance to do damage to holy love and truth.
75. To think that the Popish pardons have power to absolve a man even if -- to utter an impossibility -- he had violated the Mother of pod, is madness.
76. We assert on the contrary that the Popish pardons cannot take away the least of daily sins, as regards the guilt of it.
77. To say that St. Peter, if he were now Pope, could show no greater mercies, is blasphemy against St. Peter and the Pope.
78. We assert on the contrary that both this and every other Pope has greater mercies to show: namely, the Gospel, spiritual powers, gifts of healing, etc. (I.Corinthianians XII).
79. He who says that the cross with the Pope's arms, solemnly set on high, has as much power as the Cross of Christ, blasphemes God.
80. Those bishops, curates, and theologists, who allow such speeches to be uttered among the people, will have one day to answer for it.
81. Such impudent sermons concerning indulgences make it difficult even for learned men to protect the Pope's honour and dignity against the calumnies, or at all events against the searching questions, of the laymen.
82. As for instance :- Why does not the Pope deliver all souls at the same time out of Purgatory for the sake of most holy love and on account of the bitterest distress of those souls this being the most imperative of all motives, while he saves an infinite number of souls for the sake of that most miserable thing money, to be spent on St. Peter's Minster - this being the very slightest of motives?
83. Or again :- Why do masses for the dead continue, and why does not the Pope return or permit to be withdrawn the funds which were established for the sake of the dead, since it is now wrong to pray for those who are already saved ?
84. Again:- What is this new holiness of God and the Pope that, for money's sake, they permit the wicked and the enemy of God to save a pious soul, faithful to God, and yet will not save that pious and beloved soul without payment, out of love, and on account of its great distress ?
85. Again :- Why is it that the canons of penance, long abrogated and dead in themselves, because they are not used, are yet still paid for with money through the granting of pardons, as if they were still in force and alive ?
86. Again :- Why does not the Pope build St. Peter's Minster with his own money - since his riches are now more ample than those of Crassus, - rather than with the money of poor Christians ?
87. Again:-Why does the Pope remit or give to those who, through perfect penitence, have already a right to plenary remission and pardon .
88. Again:- What greater good could the Church receive, than if the Pope presented this remission and pardon a hundred times a day to every believer, instead of but once, as he does now?
89. If the Pope seeks by his pardons the salvation of souls, rather than money, why does he annul letters of indulgence granted long ago, and declare them out of force, though they are still in force?
90. To repress these very telling questions of the laymen only by force, and not to solve them by telling the truth, is to expose the Church and the Pope to the enemy's ridicule and to make Christian people unhappy.
91. Therefore, if pardons were preached according to the Pope's intention and opinion, all these objections would be easily answered, nay, they never had occurred.
92. Away then with all those prophets who say to the community of Christ, "Peace, peace," and there is no peace.
93. But blessed be all those prophets who say to the community of Christ, "The cross, the cross," and there is no cross.
94. Christians should be exhorted to endeavor to follow Christ their Head through Cross, Death, and Hell,
95. And thus hope with confidence to enter Heaven through many miseries, rather than in false security.
M. D. XVII. This list of Martin Luther's 95 Theses copied from a booklet from Lutherstrad Museum in Wittenberg, Germany.
This account of the 95 Theises that Martin Luther write and posted was copied from the Luther museum in Wittenberg.
---
The Luther Rose. It is a 20th century copy of the medallion on Katherine's Portal, from the year 1540, the entrance to the Luther House, Wittenberg. Martin Luther explained the symbolism of his crest in a letter written on July 8, 1530, as follows: "The cross must come first, black and within a heart, which has its natural colour, so that I can be reminded that it is our faith in Christ crucified which makes us blessed and happy...Such a heart should be placed in the centre of a white rose, to grant my faith, joy, comfort and peace...This is why the rose must be white and not red, as white is the colour of all spirits, souls and angels. Such a rose in turn is in the middle of a sky-coloured field symbolizing heaven; my joy and faith is the beginning and my heavenly bliss is the future. The golden ring around the sky coloured field is a symbol of my eternal happiness in heaven, a bliss which is greater than all joy and possession. It is gold as gold is the most precious and exquisite ore."
Taken from a post card purchased at the Lutherstadt, Wittenberg, Germany, May 2003.
Return to Church History 1483