Ned Holmgren
Ned Holmgren was born January 24, 1916, in Rapid River, Michigan. He was converted in 1927 in Portland, Oregon and baptized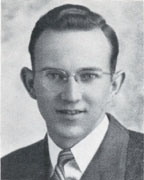 there on Easter Sunday 1928 (March 11, and received into the church membership on March 18, 1928.) Ned entered Bethel Junior College and Theological Seminary 1935 and graduated in 1940. On December 5, 1939 he transferred his church membership. He married Virgie Berglind in Minneapolis, Minnesota on October 29, 1940. Their children were named; Paul Douglas, Janice Marie, and John Merrill. Ned was ordained October 20, 1941 in Isle, Minnesota. He served as Pastor at Isle, Minnesota in 1938 to 1942 and Stanchfield, Minnesota since 1942.
These facts about Ned Holmgren were taken from "Seventy-five Years - Bethel Theological Seminary."
In September, 1937, Ned Holmgren, who had grown up in our Sunday School, had been saved and baptized, served as president of the Young People's Society and attended Bethel Junior College at St. Paul, was recommended by the church for admission to Bethel Seminary. On January 1, 1938 he was licensed to preach and after serving as student pastor and regular pastor of the church at Isle, Minnesota, was there ordained to the gospel ministry. In 1942 he was on the way to becoming the much beloved pastor of the church at Stanchfield, Minnesota, serving the Lord with the same cheerful enthusiasm and humble devotion that he exhibited while among us in Portland.
The above account was copied from the "Sixtieth Anniversary of the Temple Baptist Church."
Page is still in need of additions
If you have any information regarding a photo and/or biography, please notify the office at Temple Baptist Church. Thank You!