City of Portland
Portland is the third of the three big cities in the Pacific Northwest after the attractions of Seattle and Vancouver, B.C. The City of Roses is one of the most beautiful cities in West America. It's downtown is located between the evergreen hills of Forest Park and the Willamette River.
Chinook Indians were the first to use the site of Portland as a port. They found it a good place to tie up their canoes on trading trips between the Columbia and Willamette Rivers and cleared about an acre of ground gathering wood for their camp fires.
In 1840, Captain John H Couch, anchored his sailing vessel at the site of Portland saying, "To this point, I can bring any ship that can get into the mouth of the great Columbia River."
The first building in Portland was a small log cabin erected in 1829, by Etienne Luciu, a French-Canadian near the site of the present Doernbecher Furniture Company. Luciu soon moved away to French Prairie
In 1842, William Johnson, a British subject, settled in what is known as South Portland and built a cabin. He died in 1848.
In 1844, William Overton, from Tennessee, took up a claim of 640 acres on the west bank of the Willamette River consisting altogether of dense forest except for the little clearing made by the Indians. Lacking the trifling sum of twenty five cents to file his claim with the provisional government, he offered Amos L. Lovejoy, who had come from Boston, a half interest in the claim if he would pay the filing fee and later Overton traded his remaining half interest to Francis W. Pettygrove, a merchant from Portland, Maine for 100 dollars in food and provisions.
By 1845, Lovejoy and Petty grove had laid out four streets and cleared sixteen blocks. Lovejoy wanted to name their new town "Boston" and Pettygrove wanted to call it "Portland." Pettygrove won by the toss of a coin and the little cluster of log cabins was named Portland. A log store was built on the south east corner of Front and Washington streets and a wagon road was started westward to the hills.
James Twilleger came with the emigrants of 1845, and filed a claim south of the Overton tract and in 1846, built a blacksmith shop. In this same year, Daniel H. Lownsdale established the first tannery in the far Northwest. On the spot now occupied by Multnomah Field.
Captain Couch returned in 1845, and selected a tract of land north of the Lovejoy, Pettygrove claim.
In the winter of 1845-46, Lovejoy sold his share to Benjamin Stark and in 1848, Pettygrove sold his interest to Daniel Lownsdale. The new proprietors added two partners, Stephen Coffin and W.W. Chapman and formed the Townsite Promotion Company. An excerpt from a diary of that year says, "Portland now has two white houses and one brick and three wood-colored frame houses and a few cabins."
John Waymire established Portland's first sawmill. His equipment consisted of an old whipsaw brought across the plains from Missouri. One man stood on top of a log raised on blocks and pulled the saw upward; the other, in a pit beneath, billed the saw downward and was showered with sawdust at each stroke. Waymire also erected the first hotel, a double log cabin of immense size where he "furnished meals and a hospitable place to spread blankets for the night."
In 1850, the town had a population of 800. A steam sawmill was erected and in December 1850, the first copy of the weekly Oregonian came from the Washington hand press owned and operated by Thomas Dryer.
Portland was incorporated and the first election held in 1851. Hugh D. O' Bryant, a native of Georgia was elected mayor. A few days later the council met and levied a tax of 1/4 of one per cent for municipal purposes. At that time the forest came down to the river's edge except that the trees were cut from Front Avenue between Jefferson and Burnside Streets. The stumps remained in the streets and were whitewashed so that pedestrians would not collide with them at night.
In 1851, a free school was opened with twenty pupils and a one story building 16 X 25 feet was erected of hewn timber and used for a jail.
The first brick building was erected in 1853, by W. S. Ladd, a young man from Vermont, who was twice elected mayor of Portland; in 1854 and in 1857. The building, in a good state of preservation, still stands at 412 SW Front Avenue (1944).
This account was written by Harley Hallgren for the 1934, Temple's Golden Jubilee Celebration.
---
The following excerpts from the book "Portland" by Jewel Lansing

By1848, Portland consisted of "two white houses and one brick and three wood-colored frame houses and a few cabins." Visitors traveled through the thickest woods they had ever seen, woods infested with "wildcats, panthers, bears and wolves.
Portland's original city limits when the city was chartered in 1851, included a one hundred fifty-four-acre parcel of the Couch claim. Mr. John Couch and his brother-in -law George Flanders--the first city treasurer--donated ten city blocks of their land for a railroad depot and terminal grounds in the late 1860's.
"The first home of (Captain) John H. Couch, where he lived all his life....stood on the west side of Couch lake, and Captain Couch could sit on his front porch and shoot a duck in the lake any day for dinner. Couch lake was a real lake covering about forty city blocks. The present Union Railroad Depot stands (at the site of) the old lake; the whole of the lake having now been filled up to the established street grade by pumping sand out of the river opposite.
About that time thirty-eight-year-old Daniel Lownsdale filed on six hundred forty acres immediately west of the town site in a heavily wooded area on a small stream. There he built a tannery. The stream became known as "Tanner's Creek." Almost immediately the enterprise attracted a widespread following. The following ad for the tannery appeared in Oregon City's Spectator Newspaper: "This establishment is situated in the midst of plenty of hemlock, the only good tanbark which can be procured in the Territory. Daniel Lownsdale."
PGE Park, (formally known as Multnomah Stadium) now stands where Lownsdale tanned his hides.
In 1850, Congress passed the Oregon Donation Land Claims Act that granted six hundred forty acres of free land to every married couple who had claimed acreage before December 1. 1850 -- one-half each to the husband and wife-- provided that they cultivate the claim and live on it for four years. Between December 1850 and December 1855, married couples could claim three hundred twenty acres. single settlers, one hundred sixty acres. After December 1855, these special Oregon Territory provisions ceased.
By 1850, Portland, with eight hundred twenty-one people, already had more residents than any other Northwest white settlement. The closest rival was Oregon City, with six hundred ninety-seven inhabitants. Astoria had only two hundred fifty-two.
A fellow by the name of Colonel William H. King was Portland's first politician and statesman. He set up a construction business and built Portland's first sawmill in 1849 (which was destroyed by fire shortly after it was completed), as well as Portland's first schoolhouse. He also named Washington and Marion counties. He wanted to name at least these two counties with solid "American" names instead of the historic Indian names.
On January 14, 1851, the Oregon territorial house of representatives passed Portland's charter. The territorial council (senate) approved the bill on January 23. The then governor John P. Ganies signed it on February 8. The city of Portland therefore received its charter eight years before Oregon became a state in 1859, and three years before the creation of Multnomah County in 1854. Only one town was incorporated before Portland: Oregon City, chartered in 1844, was the only city awarded official status by the provisional government. In 1849, Oregon City received a second charter to become the first town recognized by the territorial government. Five days after the passage of Portland's 1851 charter, the territorial assembly approved a third charter for Oregon City. The writings of these charter's required the following provisions:
Portland men were required to donate two days of labor a year to build city streets plus one day for territorial roads. Oregon City men had to work only one day a year on their own streets and none on territorial roads. All other able-bodied men in the territory over age twenty-one were required to donate two days of work on territorial roads.
Portland's charter gave the city council power to build streets, lanes, sidewalks, and public levees, and required property owners to repair and improve sidewalks, alleys and gutters adjacent to their property, If the owner did not do so, council was authorized to make such repairs and improvements and assess the cost to the owner. Except for the omission of these provisions, the two charters are virtually the same. Both cities were to be governed by a council consisting of a mayor, recorder, and five councilmen. Both had the word "town" scratched and the word "city" inserted instead. A "one-fourth of one per centum" property tax was authorized to cover the cost of each government.
The issue that overshadowed all other maters was the territory-wide question of where to locate institutions such as the territorial capital, penitentiary, and college. On January 30, 1851, it was decided that Salem to be the Capitol, Portland to have the penitentiary and Corvallis, then called Marysville, to have the college.
The Penitentiary remained in Portland until 1866, when the legislature directed the convicts be moved to Salem.
In March--April 1851, Hugh E. O'Bryant was elected the first mayor of Portland. Note: No salary was provided for the mayor or members of the city council.
In 1973, he was honored with the naming and dedication of O'Bryant Square located between SW Washington and Stark Streets on the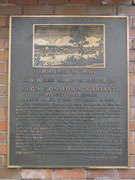 northernmost of the Lownsdale park blocks. O'Bryant Square is eight blocks due west of the town's first store and wharf.
There were 805 residents recorded in the 1850 census. Three quarters of them were male. Nine-tenths of all Portlanders were in their twenties.
Portland's first public school opened December 15, 1851, with twenty pupils taught by John T. Outhouse. Classes were held in a public hall built by William King and Stephen Coffin on First Street, between Pine and Oak.
Multnomah County was created from parts of Washington and Clackamas counties on December 22, 1854, with Portland as the new county seat.
On November 16, 1855, the first telegraph line opened from Portland to Oregon City The first message, sent to TJ Dryer, said: "Compliments of the Pacific Telegraph Company to the editor of the Oregonian."
Throughout Portland's history, transportation has played a dominant role in the city's progress, never more prominently that in its earliest days. Even the chartering of the town became entangled with the need for a road to Portland from the farmlands to its west and south. The Portland-Tualatin Valley route targeted for a plank road had been hacked out of underbrush and dense forest, and was little more than a blazed path of roots and mud. Planking would make it wider and more passable. Without such an access road, Portland was virtually an island, unreachable except by boat.

An early memoir by a woman pioneer describes prevailing attitudes of the time:
The old men talked over the possibilities of Oregon. One thought bridges would span the Willamette; others shook their heads, saying not while we live. Our children may live to see one. Others thought railroads would be built across the continent; all looked a the speaker and echoed "A railroad! Never, over those mountains. Why man, no one in God's world will live to see that day, steamers and ships will come, but no railroad.
Some Quotes about Highway 26 or Canyon Road from the book "Portland" by Jewel Lansing.

I well remember (in 1849) scrambling over logs, through brush and briar, and creeping under and through thickets of vine maple in the discharge of what proved to be a very laborious and disagreeable duty in location and opening the (Canyon) road.
Joseph Showalter Smith, in a letter to the Oregonian
U. S. 26 serves almost every role a road can play....It's an urban freeway, a mountain pass, a freight line, a scenic route, a tourist link and a gateway to recreation. It is a major highway for travelers, a commuter circuit for workers and a main street for rural residents.
Oregonian, July 6, 1999
Canyon Road west of Portland was a morass of mud; it was virtually impassable. The road was outside the city limits, and therefore not under the council's jurisdiction. The portion of the road closest to Portland had been planked five years before by the now-defunct Portland and Valley Plank Rock Company. On January 25, 1856, the territorial legislature chartered a new corporation, the Portland and Tualatin Plains Road Company. Businessmen such as former mayors William Ladd and Josiah Failing were among those who paid private subscriptions.
The pioneers were confronted with a gigantic task; the immense stumps were solidly rooted, and, when removed by laborious
efforts, the roots and rocks in the roadbed had to be cleared away. The work was costly and the cost was always greater that estimated. The mud during the greater part of the year made wagon travel almost, if not quite, impossible. A wagon journey with a load, made progress at the rate of eight or ten miles a day.
Pg.79 "Portland" by Jewel Lansing
The following is a description of the times by future Oregonian editor Harvey Scott from the book "Portland." Pg.81

In October, 1856, Portland contained about 1800 inhabitants. All business was in Front Street. West of First Street, only paths, trails and zigzag roads made by workmen led the way through stumps and logs and over uneven places, out into that forest. The Canyon Road had been opened, but was yet almost inaccessible from the nascent city, and most difficult of passage or travel when reached. In many places this road was so narrow that teams could not pass each other, and most of the logs had been cut out at lengths, or widths, that gave room for only a single vehicle. In the winter there was bottomless mud, though the Canyon Road was cross laid with timber a portion of the way. No one who passes over these roads now can have any idea of the size of the trees or the density of the forest then; the logs, undergrowth, ridges and gullies, hills steeps and sharp turns in the ravines rendering road-making a thing difficult now to comprehend or believe.
Western Oregon was so fully settled that the most desirable lands were all taken. The great donation claims of 640 acres, to man and wife, covered all, or nearly all, the comparatively nothing: and Salem as the center of agricultural Willamette, was in many ways a more important town than Portland.
Reprinted with permission from "Portland: People, Politics, and Power, 1851-2001," by Jewel Lansing, published by the Oregon State University Press. Available by calling 1-800-426-3797.
---
The following is inscribed on the plaque pictured above that is located in O'Bryant Square.
Portland in the 1850's
This Square named in Honor of Hugh Donaldson O'Bryant, Portland's First Mayor
Served April 7, 1851 to April 4, 1953.
Hugh Donaldson O'Bryant was born in Georgia in 1813. The son of a Baptist Missionary to the Cherokee Indians. In 1843, he migrated to Oregon and served as a 1st Lieutenant with the Oregon Mounted Rifles in the Cayuse War, 1847-1848, and founded Portland's first public library. When Portland was charted in 1851, O'Bryant received 104 of the 222 votes cast for Mayor.
O'Bryant Square is near the "clearing" where W. C. Overton and Asa Lovejoy met in November 1843 and agreed a town should be founded. By 1851 Portland consisted of several dozen white houses, a wharf, two hotels, several stores, three churches, warehouses, a sawmill, a tannery, a blacksmith shop and two weekly newspapers. Two wagon-rut roads served commerce to the west and a riverboat connected Astoria and Oregon City. Lack of warehouse space was a problem; and mud, water, and stumps in the streets were treacherous obstacles at night.
The Editor of the Oregon City Statesman, visiting Portland at that time reported that the "sound of the hammer greets you on every side."
Oregon Historical Society