Miss Lois Sorley
Miss Lois Ruth Sorley was born on May 18, 1914 in Belott, Wisconsin. She was converted at the age of nine at the Fourth Church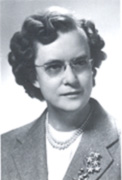 in Minneapolis and baptized there by Elmer E. Loucks, on Easter Sunday, 1924. Miss Sorley attended Bethel Theological Seminary in 1933 and graduated in 1938. Miss Sorley served her Lord, doing Daily Vacation Bible School work. She was a missionary in Wisconsin Rural Missions, Keystone, near Cornell, Wisconsin in 1938 to 1943.

The above account taken from the book, "Seventy-Five Years of Bethel Theological Seminary."

Early in 1943 Miss Sorley was called from Wisconsin to Temple Baptist Church as a Missionary and immediately went to work calling from house to house and testifying in many of them. The increased attendance in all of the services of the church including the Sunday School is no doubt are impart to this visitation program.

The above account taken from the book, " Sixtieth Anniversary of the Temple Baptist Church."

"Miss Lois Sorley, our church missionary, is doing excellent work." Quote by Dr. Linus Johnson in about 1944.

"For the Son of Man is going to come in his Father's glory with his angels, and then he will reward each person according to what he has done." Matthew 16:27 NIV